Roger Esteller: Biography
From Roger Esteller, an ex professional basketball player …
To talk about Roger Esteller (Barcelona, July 6th, 1972) means to talk about one of the most important Spanish sportsman in the 90s decade. He began his professional basketball career in 1990 as part of FC Barcelona team, where he played in two different stages of his career. Besides FC Barcelona, he also imposed his stung and intense game in other relevant teams, like TDK Manresa, Tau Cerámica, Unicaja de Málaga and  ÉB Pau-Orthez in France.
During his 15-year career he played at the highest professional level, he achieved numerous collective and individual titles -the most relevant being the Silver Medal with the Spanish National Team in the European Championships in Paris (1999); the Koran Cup, two second European Cups, two ABC League's Titles and the Copa del Rey (King's Cup) with FC Barcelona; a Copa del Rey (King's Cup) title with TDK Manresa; and a French Basketball League and French Cup with ÉB-Pau Orthez. In the 2001-02 season he was named MVP of the French League. In addition, he was a member of the European National Team.
On the track he always stood out for his versatility, great physical strength, speed of movement and for his intense game.
…to Roger Esteller, trainer and motivational adviser
Ever since he left professional basketball, Roger Esteller has been serving different positions and functions of his sports training –MBA in Sports Business Management and Superior Coach Basketball- and social awareness; he has been a commentator, manager of sport entities, technical director of sport clubs, as well as president of the Association of Former Basketball Players of FC Barcelona and president of the Association Esportistes Solidaris (solidary athletes).
In recent years, Roger Esteller has deepened in his training and motivational interests, giving lectures, talks and workshops to different groups: athletes, parents and scholars, university students, managers, entrepreneurs, administrations… His main arguments are teamwork, corporate social responsibility, social integration through sport, and achieving success and reaching goals, both personally and professionally.
From his experience as a top sportsman, Roger Esteller has developed his own motivational methodology, called "Si vispacem", which is the basis of a motivational philosophy he teaches as a consultant.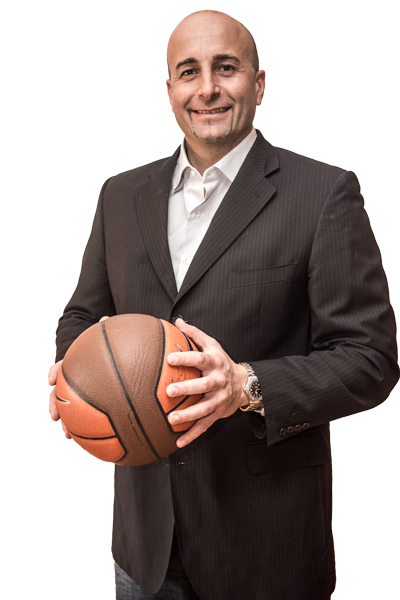 SPORTS CAREER PATH
1990-93: FC Barcelona
1993-96: TDK Manresa
1996-99: FC Barcelona
1999-2000: Tau Cerámica
2000-02: ÉB Pau-Orthez (Francia)
2002-2003: Unicaja Málaga
2003-2005: Caprabo Lleida
2005: CB Gran Canaria
SPORT TRACKING RECORD
Silver Medal in Eurobasket 1999 in Paris, with the Spanish National Team
Korak's Cup 1998-1999, with FC Barcelona
Twice in runner-up position in the European Cup 1990-1991 and 1996-1997, with FC Barcelona
2 ABC Leagues 1996-1997, with FC Barcelona
2 Copas del Rey (King's Cup) 1990-1991 (FC Barcelona) and 1995-1996 (TDK Manresa)
Basketball French League 2000-2001 wih ÉB Pau-Orthez
French Cup 2001-2001, with ÉU Pau-Orthez
INDIVIDUAL SPORT ACHIEVEMENTS
Best Communitary Player of the French League 2000-01 and 2001-02
MVP (Most Valuable Player) of the final playoff of the French League 2000-01
MVP of the French League in season 2001-02
MVP of the Catalan League 2003-04
Member of the European National Team
TRAINING
MBA in Business Administration
Superior Basketball Coach
Training in business and personal Coaching
OTHERS
President of the Association of Former Basketball Players of FC Barcelona (2011-2015)
President of the Esportistes Solidaris Association (2007-2915)
Lluís Companys' Award from the Catalan Pro Election Porponents
Innovation Award on Buisness Coaching from the International Chamber of Entrepreneurs of Barcelona (2015)
Press Dossier
Below you can download the Press Dossier of Roger Esteller, through the following button or just clicking on it in the front page of itself. If you have any doubt or query you can contact us.